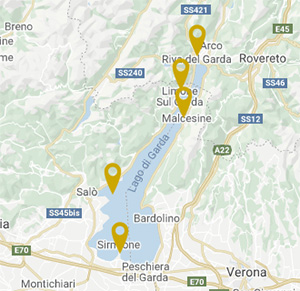 AVAILABLE FROM  03 MAY 2023
Riva – Limone – Isola del Garda – Sirmione 2 hours free time – Bardolino 90 minutes free time – Malcesine – Riva Duration: morning + afternoon
Departure from Riva del Garda at 8:40 am. Passing in front of Limone, Campione , Villa Feltrinelli ,Gardone, Isola del Garda you arrive in Sirmione where is the first stop of 2 hours free time for to visit the village.
Then you take the boat and we go to Bardolino where is the second stop of 90 minutes free time for to visit the village.
Then we set off again and passing in front of Punta san Vigilio, Torri del Benaco, Malcesine,we return to Riva del Garda around 17:30 pm
With this excursion it is possible to cross the lake for its entire length.
On board our boats we offer a service of explanations on the history of the lake and its villages.
CONDITIONS:
- The excursion takes place even when it rains.
- NON REFUNDABLE TICKET.
- The programme can be changed at the discretion of the captain.
For groups of more than 30 people contact us directly at the email danti.daniele1@gmail.com